Carnival Splendor Celebration Sale

4 Nights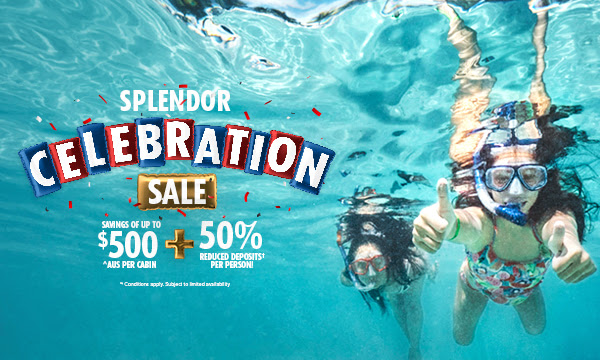 Duration:

4 Nights

Travel Dates:

06/12/19 to 30/12/20
From
AUD$468
Price per person
Package Details
Overview
With Carnival Splendor's imminent arrival to Australian shores, there's no better time for you to celebrate than with Carnival's Celebration Sale!
Details
On selected sailings you can now enjoy savings of up to $500 per cabin PLUS 50% reduced deposits per person!
So, what are they waiting for? Hurry this deal is strictly limited and must end 19th December 2019!
Plus don't forget to combine with our popular Cruise Sale Weeks and Select Sailing programs for even more benefits, like on board spending money!
Featured Cruises:
All travel dates are in 2020.
Weekend Sampler – 3 Nights in a Balcony room from $669p.p. twinshare – Travel dates starting from 9 January
Pacific Islands – 8 Nights in a Interior room from $649p.p. quadshare – Travel dates starting from 10 February
Tasmania – 5 Nights in an Interior room from $529p.p. quadshare – Travel dates starting from 18 February
Adelaide – 4 Nights in an Interior room from $468p.p. quadshare – Travel date 27 February
New Zealand – 12 Nights in an Ocean View room from $1,138p.p. quadshare – Travel date 2 March
Moreton Island – 4 Nights in an Interior room from $512p.p. quadshare – Travel dates starting from 7 May
Great Barrier Reef – 10 Nights in an Interior room from $1,019p.p. quadshare – Travel dates starting from 20 July
Melbourne Cup – 6 Nights in an Interior room from $939p.p. quadshare – Travel date 1 November
Travel Enquiry