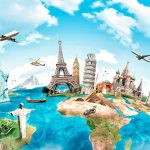 Casino Travel Shoppe is an independent  travel agency,  specialising  in  all inclusive  group  travel,  tours hosted by our staff or other trusted well-travelled people, special events as well as free independent travel. The company has its roots in Casino in the Northern Rivers region of NSW, where it was established in 2000. In 2017 it opened a satellite office in Evans Head.
Casino Travel Shoppe's  focus is a travel company that delivers good old fashioned country style service and advice, whether it is for all-inclusive package group tours or for independent travellers. We aim to provide great value for money no matter whether you are a frequent traveller or if it is your first trip, whether you are going first class and five star or whether you are going budget airline and hostel! We provide you with  a complete peace of mind guarantee that your travel needs have been taken care of and all you have to worry about is the weather, what to buy on the trip and of course, what to pack to take with and we can even provide advice on that!
At Casino Travel Shoppe we realise that time is our most valued commodity and a holiday with friends or loved ones can keep time standing still, if only for a moment to frame precious memories that last a lifetime. Our client's come first and our objective is to make your travel dreams become reality! We achieve this by creating the perfect travel experience at our best possible price for leisure and corporate travellers so that every journey is a dream journey!
More about us
We are also a member of Travel Partners. Travel Partners is a network of experienced independent travel agents across Australia.
As a members of Travel Partners we take the time to understand your interests, situation and travel requirements. Each travel agency operates their own business, so your relationship is directly with the travel agent you choose.
Every Travel Partner is passionate about travel, having gained extensive knowledge through years of first-hand experience. Plus, they can rely on each other, as well as our in-house support team, for additional tips and information as needed.
Being powered by Travel Partners, you can rest assured you're dealing with experts who have the best industry support, systems and knowledge.
Our travel experts are committed to delivering a high level of service, ensuring that your travel plans are seamless. In the event of a cancellation or error, you've got a direct line to your local team who can resolve any issues that may arise.
We have a simple aim: For every client to have a travel experience that is above and beyond their expectations.